Do you want to print one of a kind fabrics
for your art projects?
Fearless experimentation can lead to extraordinary results
Make Monotypes – textile printing online course – Focus on Fiber (coming in January 2015)
is a 4 week online printmaking course with ink/paint on fiber and the homemade gelatin and glycerin plate.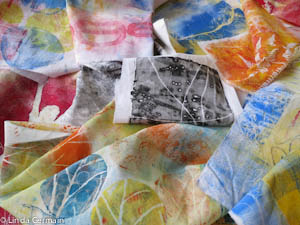 You have tried many different techniques
You have a huge stash of fabric
Yet you are still searching for that unique type of textile for your next project.
In this textile printing class you will:
Make the printing plate
Collect and create stenciling and stamping tools
Identify the best way to make and transfer marks to the fabric
Choose which inks/paints and fabrics work best for your application
Make a stash of one of a kind printed fabric
Complete a couple of projects
Are you ready to embrace confident play and brave experimentation to print piles of personalized fabric?
Make Monotypes Focus on Fiber was created for those of you demanding to use the gelatin printmaking process by printing on fabric. You have access to all the knowledge that I have gained in the  6 years of experimentation with gelatin printmaking.
I created this course to share with you the tricks and techniques that I have learned about printing with the gelatin plate. I want to support you in your own printmaking journey.  I want you to love this unpredictable process, as much as I do.
I have taught artists from the US, Canada, Australia, UK, and 12 other countries.
Here's what some students are saying about printing classes with Linda Germain:
I am delighted at how well organized the class is and how much I am learning. Linda, you are a wonderful teacher. THANKS.  Each lesson is well thought out, and the videos are easy to understand.  I truly appreciate your interest in each student's  development.  It has been absolutely perfect, and I am so grateful that you offered this class 

online

.  I hope you offer an advanced class sometime soon!

Elenor Martin Austria – Make Monotypes 2014
This is the only online class I have actually ever really thoroughly engaged in. You are really a master at this form of teaching and the content as well!

Emily Archer, Make Monotypes
I love your teaching methods and the support from the group in Facebook.  Lots of inspiration, ideas and some great prints.
Gord McSevney, Make Monotypes
Thanks, Linda. Your videos and written material are so very thoughtful, clear and concise. I am more impressed every day.
Jane Ross, Make Monotypes
This class was wonderful. Linda is a well spoken, experienced printmaker and teacher. I was most pleased with learning how to use delicate stencils to make detailed impressions.

Diane Hamburg – Make Monotypes – 2014
I was so pleased to actually make the printing plate with glycerin. I had been thinking about it for about a year but never did it before the class. Linda's organization is excellent. I would say the class was worthwhile and it was successful.
Sandy Sapienza – Make Monotypes 2014